WASHINGTON — The VA and its partners are pursuing research, including six major studies, to better understand the potential health effects of burn pit exposures.
"Veterans are appropriately concerned about burn pits and airborne hazards during deployments, and so are we," Ralph Erickson, MD, VHA's Post-Deployment Health Office of Patient Care Services chief consultant, told lawmakers last month.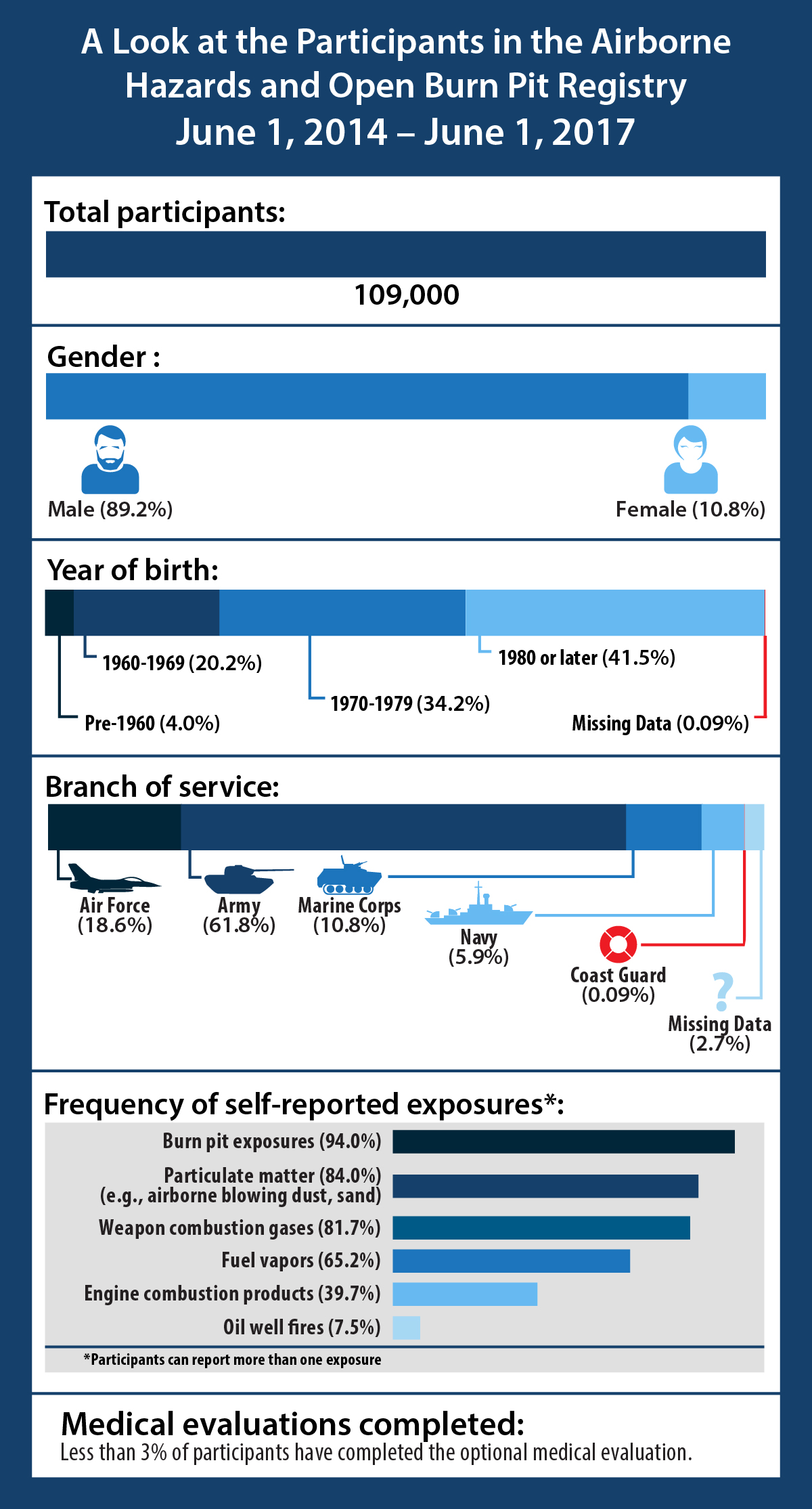 Erickson made his comments at a House Committee on Veterans' Affairs subcommittee hearing where lawmakers expressed urgency in getting answers about the health effects of burn pit exposure.
Open burn pits were used as a common waste disposal method at military sites in Iraq and Afghanistan. Concerns have been raised about the association between exposure to burn pits and respiratory symptoms reported by returning veterans.
A 2011 Institute of Medicine report was unable to determine, however, whether long-term health effects are likely to result from burn pit exposure, citing inadequate or insufficient evidence of an association.
"The anecdotal reports of serious issues following exposure to burn pits in Iraq and Afghanistan are worrisome, to say the least. They also make it clear that, despite a high level of attention, far more questions remain than answers on the exact nature and impact of burn pit exposure," pointed out Health Subcommittee Chairman Rep. Neal Dunn (R-FL).
Erickson told lawmakers that "the collaborative and ongoing efforts" of VA, the DoD, and their partners in academia "are being fully employed to identify veterans who may be at risk and to better understand the potential short-term and long-term adverse health effects that may be associated with their exposure."
"Our combined aim is to limit future exposure to deployed forces and to prevent the development of disease and disability," he said.
Rep. Julia Brownley (D-CA) urged that a special effort be made to ensure sufficient female veteran participation in the burn pit research.
Erickson conceded that "women may, in fact, have different adverse health effects" and said the VA has purposely oversampled for them in large epidemiological studies.
In terms of the research, Rep. Tulsi Gabbard (D-HI) suggested that veterans are concerned that studies just "drag on and on" and that results could come too late to help some of them.
"As soon as you talk about a government study, this is something that can drag on. Meanwhile people here are suffering from illnesses and they wonder if they will be alive when these studies are complete," she said.
Presumptive Status
Lawmakers also wanted to know about the potential for a presumptive status for veterans with health effects from burn pit exposures.
Erickson told lawmakers that the VA does not have "sufficient evidence" for that at this point, explaining that results of its six studies would be required and that might take several years.
"We need those answers," he emphasized.
During the hearing, several lawmakers expressed their disappointment that no representatives from the military came to testify.
"I am quite disturbed that DoD is not here, because I would like to ask them who is the genius that came up with this idea. We have essentially, as a nation, deployed chemical and biological weapons on our own troops," Rep. Clay Higgins (R-LA) said, referring to the burn pits.
At the hearing lawmakers also raised concerns concern that only 144,000 individuals are currently participating in the congressionally-mandated Airborne Hazards Open Burn Pit Registry.
VA set up the tool for eligible troops and veterans in 2014 and uses it in its research efforts. Erickson pointed out that it is VA's fastest growing registry.
Calling the number of participants a "drop in the bucket," Brownley questioned whether DoD is working in concert with VA to encourage past servicemembers to enroll in the registry.
Erickson said the agencies "need to be linked at the hip" and that DoD has taken steps to promote participation in the registry. Still, he conceded that more outreach can be done to ensure that veterans know about the registry.
"We can do better, and we want to do better," he said.
The VSOs testifying also called for increased outreach efforts to enroll participants in the registry.
"The low rate of completion for the medical exam associated with joining the registry is one of many reasons VA must improve its outreach efforts," said Kenneth Wiseman, associate legislative director for the Veterans of Foreign Wars.
Exposure to burn pits was widespread, according to Tom Porter, legislative director of Iraq and Afghanistan Veterans of America. Porter told lawmakers that 80% of IAVA members who responded to a recent survey reported being exposed to burn pits during their deployment, and more than 60% of those exposed said they had associated symptoms.
Both Porter and Wiseman told lawmakers that their organizations support the recently introduced Burn Pits Accountability Act. That bill would, among other things, enroll servicemembers who meet the criteria in the burn pit registry, unless they opt out.
"The legislation directs DoD to include in periodic health assessments done by the military and at separation an evaluation of whether a servicemember has been exposed
to open burn pits or toxic airborne chemicals," Porter explained.
He added that the bill "simply does what should have been done long ago" in that it "compels DoD to record exposures before the servicemember leaves the military."
As of June 2016, only one military-operated burn pit was left in Iraq, according to the Government Accountability Office.